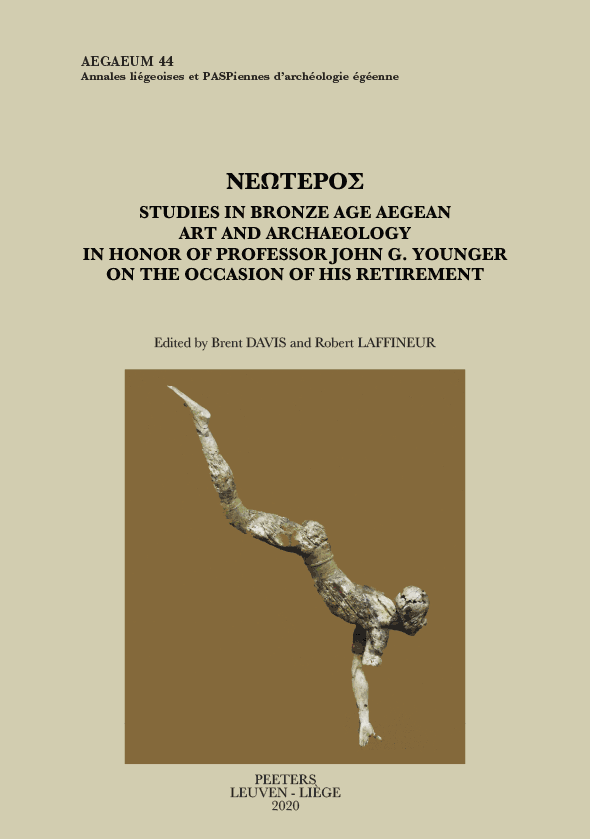 table of contents

add to cart
pages:
XXVI-324 p. + LXIV pl.
Neôteros
Studies in Bronze Age Aegean Art and Archaeology in Honor of Professor John G. Younger on the Occasion of his Retirement
Summary:
Beginning his academic career in Classical Studies, John G. Younger rapidly extended his expertise into prehistoric (Bronze Age) Aegean archaeology, art and architecture, with a particular focus on ancient stone-working... and from this interest came his seminal studies on the iconography of Bronze Age Aegean stone seals, a field on which he has made an indelible mark. He also branched out into Jewish Studies, becoming an expert on early synagogues. His lifelong activism for LGBTQI+ and minority rights, and his early embrace of feminism and the crucial role that women have played in the past (not just in archaeology, but in the ancient world itself) have also informed his teaching and studies regarding ancient and modern notions about gender and sexuality, and these studies have greatly enriched our views of the ancient world, while going a long way toward counteracting the persistently male-centric interpretations of the ancient world characteristic of the past few centuries. He has been a pioneer in the establishment of LGBTQI+ academic programs in the U.S., and in the integration of modern technologies (especially computers) into Classics and archaeology. He has established himself as an international authority on Linear A, the undeciphered writing system of the Minoans; his website containing the corpus of that script is second to none in terms of its value to scholars working on Linear A. His recent and continuing investigations into the identification of prehistoric Aegean myths promises to add yet another facet to what is already a brilliant diamond of a career.