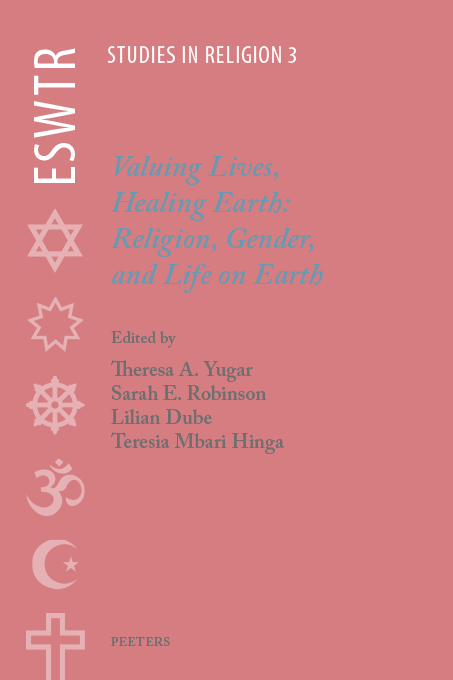 table of contents

add to cart
Valuing Lives, Healing Earth
Religion, Gender, and Life on Earth
Summary:
Valuing Lives, Healing Earth: Religion, Gender, and Life on Earth analyzes and amplifies advocacy for gender and ecological justice in Asia, Africa, and the Americas, focusing on women who embody commitments to healing the earth and valuing lives rendered vulnerable by problematic social systems. The volume features essays from leading scholars Ivone Gebara (Brazil), Aruna Gnanadason (India), Rosemary Radford Ruether (U.S.), and Sylvia Marcos (Mexico) among renowned, established, and emerging scholars concerned with religion, environment, gender, and the many intersections between them in real life. The volume highlights scholarship on practical work by women globally, who labor toward greater justice for a diverse humanity and biodiverse nature, exerting collaborative solidarity, grounded love, and realistic hope for the future.
"This timely book presents compelling arguments of the intimate connections between gender, ecology, colonialism, indigeneity, and Christianity from global perspectives. Pertinent case studies, rigorous social analyses, and sound theological reflections make this book a must read for scholars, activists, Christian leaders, and students. In the gloomy days of record temperature, wildfires, and tropical storms, the authors offer hope and vision to fight climate change."
Kwok Pui-lan, Dean's Professor of Systematic Theology, Candler School of Theology at Emory University
"Rosemary Radford Ruether's contribution to ecofeminist theology cannot be overestimated. This signal volume, including voices from all over the world, is a fitting unfolding of the trajectory Rosemary set in her pioneering effort to value each living creature, human and otherwise, and to heal Earth of the wounds inflicted by a ruthless human(un)kind. These essays provide a partial roadmap for moving forward as a global community. From diverse starting points, the authors explore crucial issues that a great theologian projected. What a legacy, what a challenge!"
Mary E. Hunt, a feminist theologian, is co-director of the Women's Alliance for Theology, Ethics, and Ritual (WATER)
"This timely collection is an homage to Rosemary Ruether's foundational work linking social and environmental justice. A collaboration of diverse feminist writers from both the Global South and the Global North, the book delivers a sophisticated and nuanced engagement with current critical issues involving climate, biodiversity, and human diversity in its complexity. The alleviation of human suffering and healing the earth emerge as important components of the pursuit of justice."
Frida Kerner Furman, Professor Emerita, Religious Studies, DePaul University